Brake Caliper
Brake Caliper
FORGED CALIPER
The caliper is made from lightweight alloy aluminum for weight reduction and optimal strength. The caliper utilizes piston dust/dirt and oil-leaking resistance seals, and is covered with anti-rust coating available in many colors listed below. The narrow shape is specifically developed for a large range of vehicles. 
More Colors.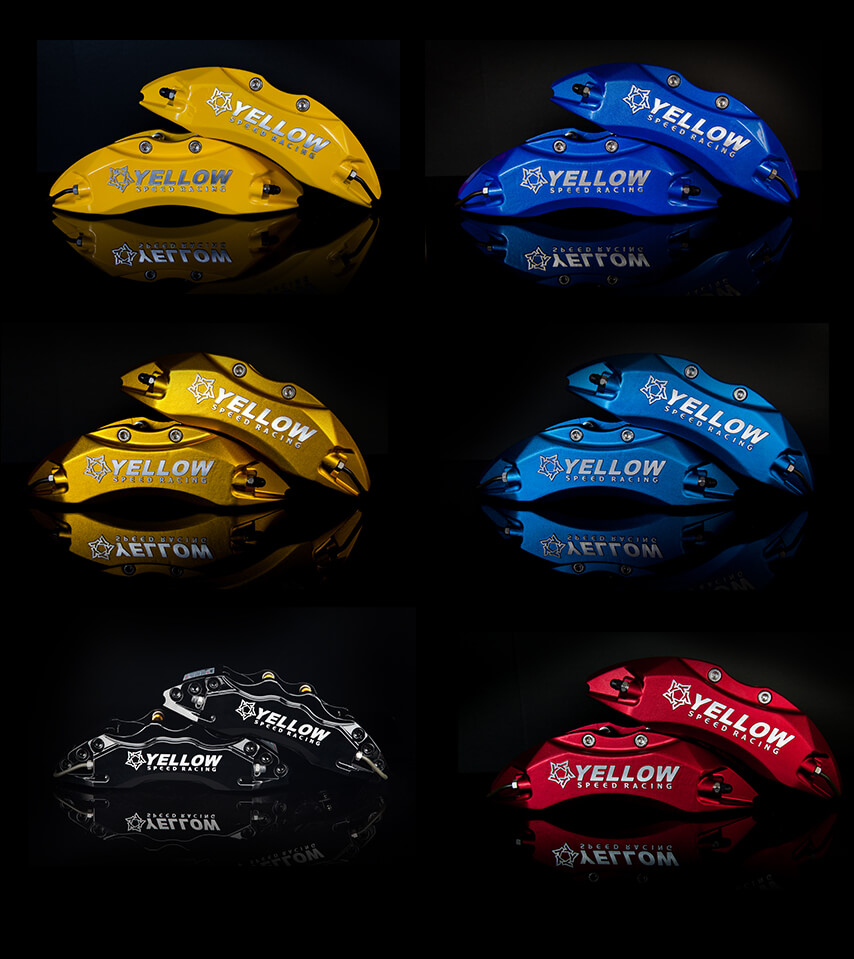 color
In order to make the caliper match your vehicle color, we strive to offer as many standard caliper colors as possible for our customers without any additional charge; however, the lead time to get the calipers painted or anodized will take us about 7 – 10 business days to process. If the purchased caliper is in the stock, the delivery time will be about 2 or 3 business days. Please check the product availability before placing an order with us. The actual caliper colors may be slightly different than the ones shown here so YELLOWSPEED will deny any product return with color difference issue.
If the color you are looking for is not listed here, please contact us for more info and color availability.
make your big brake system uniqe and outstanding
YELLOWSPEED not only offer many caliper colors for our customers but provide 'labling program' by engraving your name on the caliper as identification, which makes your big brake system uniqe and outstanding from others. This 'labling program' is provided to our customers in anodized colors ONLY (not available in painted colors) with the font of the letter present in 'ARIAL BLACK' only. The lead time to complete this labeling program will take us about 7 – 10 business days.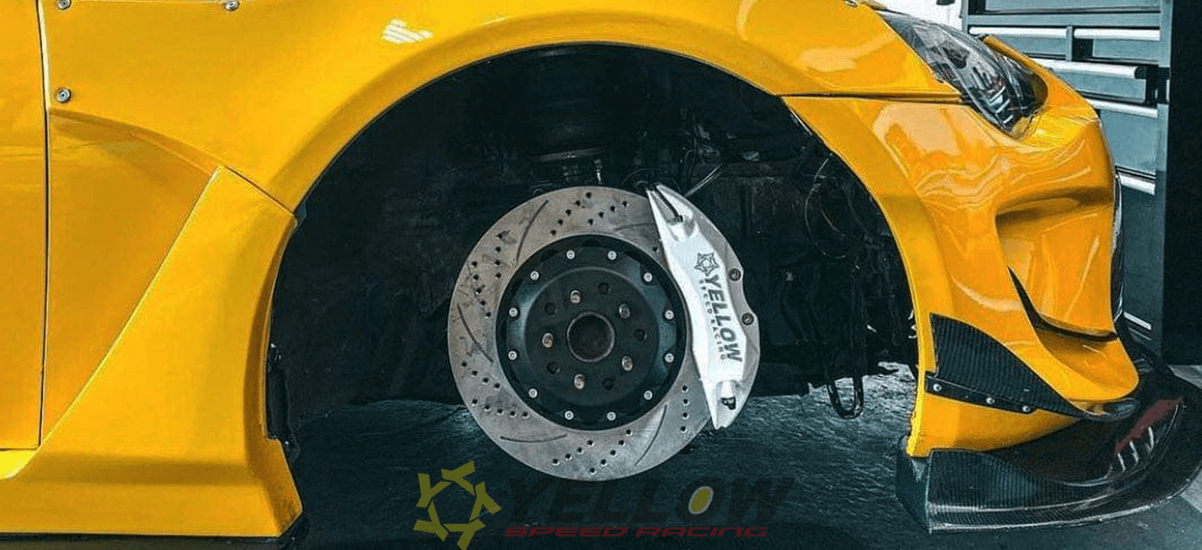 | MODEL | PISTON | PISTON DIAMETER | WEIGHT | CALIPER DIMENSION |
| --- | --- | --- | --- | --- |
| YSCPF4a | Front 4-Piston | Ø38mm, Ø38mm | 4.3kg/pair | 248mm (W) x 75mm (H) |
| YSCPF6a | Front 6-Piston | Ø36mm, Ø34mm, Ø30mm | 4.3kg/pair | 248mm (W) x 74mm (H) |
| YSCPF6b | Front 6-Piston | Ø38mm, Ø36mm, Ø32mm | 7.0kg/pair | 293mm (W) x 81mm (H) |
| YSCPF6c | Front 6-Piston | Ø36mm, Ø34mm, Ø30mm | 5.7kg/pair | 276mm (W) x 77mm (H) |
| YSCPF6d | Front 6-Piston | Ø36mm, Ø32mm, Ø28mm | | 250mm (W) x 72mm (H) |
| YSCPF6e | Front 6-Piston | Ø36mm, Ø34mm, Ø30mm | | 265mm (W) x 75mm (H) |
| YSCPF8a | Front 8-Piston | Ø36mm, Ø30mm, Ø28mm, Ø28mm | 7.0kg/pair | 293mm (W) x 81mm (H) |
| YSCPF8b | Front 8-Piston | Ø36mm, Ø32mm, Ø30mm, Ø28mm | 9.1kg/pair | 354mm (W) x 97mm (H) |
| YSCPR4a | Rear 4-Piston | Ø32mm, Ø28mm | 4.3kg/pair | 244mm (W) x 69mm (H) |
| YSCPR4b | Rear 4-Piston | Ø28mm, Ø28mm | 4.3kg/pair | 238mm (W) x 68mm (H) |
| YSCPR6a | Rear 6-Piston | Ø28mm, Ø25mm, Ø22mm | 4.3kg/pair | 244mm (W) x 70mm (H) |
| YSCPR6b | Rear 6-Piston | Ø32mm, Ø28mm, Ø25mm | 5.7kg/pair | 262mm (W) x 76mm (H) |